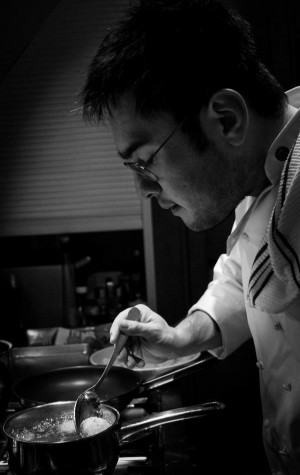 Santiago Kano - a new addition to The Kitchen team
We are excited to announce the addition of a new member of our culinary family – Santiago Kano – Chef de Cuisine of The Kitchen. Santiago joined The Kitchen this winter after two years cultivating his international culinary skills, traveling the world and gathering inspiration from communities across the globe.
World traveling aside, Santiago is, at the heart, a culinary artist. After graduating from the Culinary Institute of America in 2009 (the fifth member of his family to earn this incredible distinction), Santiago was a chef in the renowned kitchens of the Four Seasons in Jackson Hole, Costa Rica and Hawaii. After his time with the Four Seasons, he moved to Mexico City to bring his talent to the city's vast, bustling culinary scene. While in Mexico, he owned and managed a restaurant and catering company, where he quickly became known for his innovative, inspired techniques and artful presentation.
Santiago's passion and creativity in the kitchen can be seen throughout the winter menu. Please join us in welcoming this incredible new addition to our Kitchen and Fine Dining family!